RABBIT VALVE
Need to add an additional attachment to your machine,
but don't have enough valves?

PWCE's Rabbit Valve can add one more function to your hydraulic line.
Product Features
Adds one hydraulic function to the machine
Works on open or closed center systems

One handed operation
Easy to mount and install
Two models available
---
Product Description
The rabbit valve taps into the existing hydraulic lines and turns a single valve into two valves. The rabbit valve is controlled by a button that is mounted inside of the cab for easy operation. You move between the two valves by adjusting the handle to direct the flow of fluid between the primary and secondary functions.
---
Diagram of a Rabbit Valve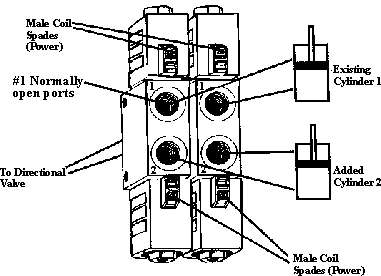 Paul Wever Construction Equipment is dedicated to product support for the construction equipment industry. We provide owners, operators, and dealers with solutions to their problems. If you have a need for trouble shooting information, engineering services, new product development, or current product support, please give us a call.
IF YOU HAVE ANY QUESTIONS, PLEASE CONTACT PAUL IMM - SALES MANAGER.
Paul Wever Construction Equipment Co., Inc.
401 Martin Dr. -- P.O. Box 85
Goodfield, IL 61742
1-800-990-7923
Click on address for directions.
Return To Catalog List

Go to Parts Breakdown

Return To Home Page
Send comments to: mpadilla@pwce.com

Copyright © 1998 Paul Wever Construction Equipment Co., Inc./Paul Wever. All rights reserved.
Last Revised: 3/21/01