Swamp Thing
PWCE Will Custom Build to Your Job Requirements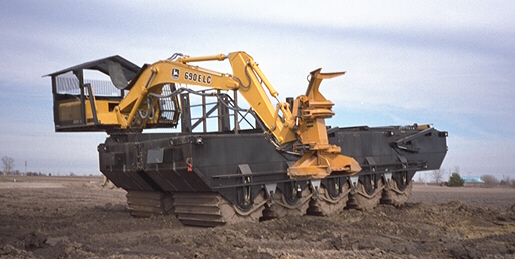 PWCE Designed and Built the Prototype
Swamp Thing for a Logging Company in Georgia.
They Can Use It on Both Land and Water
Customized Features
Designed to cut down trees on dry land and in swampy areas
Carries 200,000 pounds on solid ground and 100,000 pounds while floating
Radio remote controlled within 200 feet
Dumping system has 4 multi-staged cylinders
Logs are unloaded by rolling off the side of the machine
Carrier is equipped with lights for working at night
Swamp Thing can turn around within its own length
More Reasons to call today!
Power
The Swamp Thing is powered by two Caterpillar 300 HP diesel engines. Other models are available.
Shutdown of Cylinders
Automatic shutoff of the hydraulic oil if the machine is malfunctioning.

Maintenance
The ability to walk around inside the canopy provides access to and makes maintaining the engine area of the excavator easier.

Communication
Two way radio installed for better communications.

Safety
Canopy is surrounded by a steel housing for safety.

Remote Controlled
Can be driven from 200 feet away.

Modified Excavator
The excavator attached to the carrier was modified with a log cutting saw.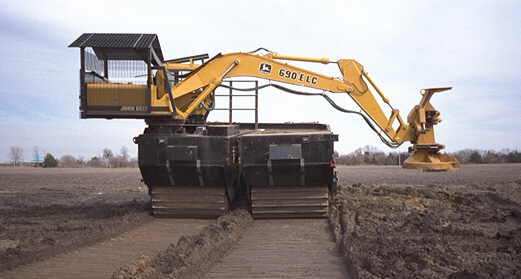 Paul Wever Construction Equipment is dedicated to the product support for the construction industry. We provide owners, operators, and dealers with solutions to their problems. If you have a need for troubleshooting information, engineering services, new product development, or current product support, please contact us.
IF YOU HAVE ANY QUESTIONS, PLEASE CONTACT PAUL IMM - SALES MANAGER.
Paul Wever Construction Equipment Co., Inc.
401 Martin Dr. -- P.O. Box 85
Goodfield, IL 61742
1-800-990-7923
Click on address for directions.
Send comments to: mpadilla@pwce.com

Copyright © 1998 Paul Wever Construction Equipment Co., Inc./Paul Wever. All rights reserved.
Last Revised: 11/13/98