Swinger Kit
Looks like a simple foot
pedal doesn't it?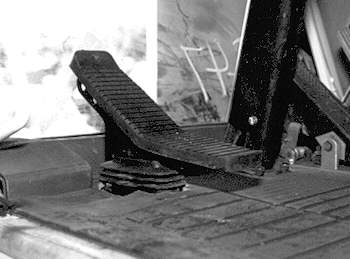 It is Simple
BUT,
The foot pedal allows you to do more.

PWCE designed the Swinger Kit to allow a machine operator to maneuver attachments on the stick with their foot instead of their hand. By freeing a hand, the operator can perform other functions, thus increasing productivity and/or safety.
Attachments controlled by the Swinger Kit
Buckets ......Grapples...... Hammers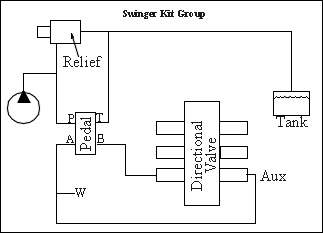 Connects to the foot pedal. Valves switch the operation
from a hand control to the foot pedal.
Other quality products from PWCE
Ride Controls
Motion Alarm
Specialty Buckets
Custom Grapples
Emergency Back-up Steering
Drift Reduction Valves

Extendavator
Telescoping Stick
Cool Vest
Rabbit Valve
Backhoe Crane
Extendable Paw
Paul Wever Construction Equipment is dedicated to product support for the construction equipment industry. We provide owners, operators, and dealers with solutions to their problems. If you have a need for troubleshooting information, engineering services, new product development, or current product support, please contact Paul Imm.
Paul Wever Construction Equipment Co., Inc.
401 Martin Dr. -- P.O. Box 85
Goodfield, IL 61742
1-800-990-7923
Click on address for directions.
Send comments to: mpadilla@pwce.com

Copyright © 1998 Paul Wever Construction Equipment Co., Inc./Paul Wever. All rights reserved.
Last Revised: 11/06/98