In need of a super efficient
asphalt/gravel compactor?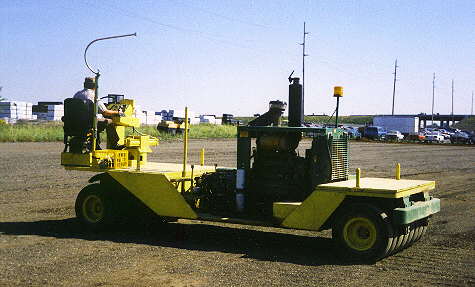 PWCE can custom build you a
CO-2040 Compactor!
A major feature of the compactor is its 16 wheel configuration and low center of gravity. This configuration allows the machine to get places other compactors would fail.
Benefits of the PWCE 16 Wheel Configuration:
Reduces on-site time
Reduced vehicle repair
Reduced maintenance downtime
Increases efficiency
Increases productivity
Benefits of a
CO-2040 Compactor
Off the shelf parts
Provides easier serviceability and cost savings.
80 gallon fuel tank
Extended operating cycle under normal usage.
Lower center of gravity
Provides greater stability for the compactor.
Optional all wheel drive
Provides the operator with better control of the machine.
Front wheels rotate 90 degrees
Enables the machine to make ultra tight turns.
Wheels oscillate 15 degrees
Allows wheels to compact on both level and sloping land at the same time.
Shock absorbing "flex-frame"
Reduces operator and main frame fatigue.
Designed to get close to buildings and fences
Compactor will not damage finished building sites.
Customizing Options
Wheel Configuration
Weight of Vehicle
Engine Size/Horsepower
Various Gauges
Axle Type
Turning Ability
Ballast Type
Brand Name Preferences
Wheel Base Length
Desired Vehicle Speed
All Wheel Drive
Cab/Air Conditioning
Two Speed Wheel Motors
Oversize Fuel Tank
Paul Wever Construction Equipment is dedicated to product support for the construction equipment industry. We provide owners, operators, and dealers with solutions to their problems. If you have a need for troubleshooting, engineering services, new product development, or current product support, please contact Paul Imm.
Paul Wever Construction Equipment Co., Inc.
401 Martin Dr. -- P.O. Box 85
Goodfield, IL 61742
1-800-990-7923
Click on address for directions.
Send comments to: mpadilla@pwce.com

Copyright © 1998 Paul Wever Construction Equipment Co., Inc./Paul Wever. All rights reserved.
Last Revised: 11/06/98