MAGNESIUM SMUDDING MACHINE
| | |
| --- | --- |
| | Picture shows a working Magnesium Smudding Machine which was designed from a Bobcat X331 mini-excavator. |
Features
Stainless steel bucket, pins, and stick
Safer working environment for employees
Removes smut from the bottom of magnesium pits
Designed to work within the weight limits of the mini-excavator

Weep holes in bucket so lighter, floating magnesium liquid will flow out
Special thermal linkage to keep hydraulic cylinder seals from melting
Bucket designed to fit and move around inside a cell
Machine Facts
Machine designed to work in 1400 degrees molting magnesium.
Many different models available for modification.
When the machine's stick is submerged into the molting magnesium, it will not discharge any of its metals into the magnesium cells.
PWCE modifies the machine to fit your application.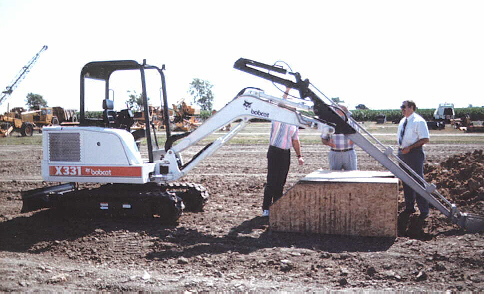 Picture shows a Magnesium Smudding Machine being tested outdoors.
The wood box simulates the magnesium cells that the machine has to maneuver around.
Paul Wever Construction Equipment is dedicated to product support for the construction industry. We provide owners, operators, and dealers with solutions to their problems. If you have a need for troubleshooting information, engineering services, new product development, or current product support, please contact Paul Imm - Sales Manager.
Paul Wever Construction Equipment Co., Inc.
401 Martin Dr. -- P.O. Box 85
Goodfield, IL 61742
1-800-990-7923
Click on address for directions.
Send comments to: mpadilla@pwce.com

Copyright © 1998 Paul Wever Construction Equipment Co., Inc./Paul Wever. All rights reserved.
Last Revised: 11/16/98