Remote Control Walk Behind Compactor

Compactor Features
Custom built to meet your specific job requirements.
Compacts on flat ground or trench like settings.
Can be remote control driven.
Small enough to maneuver in tight areas.
Compacts dirt, gravel, and rocks.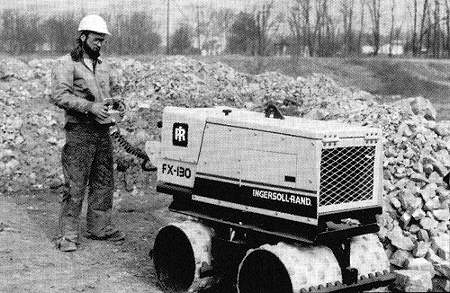 The Prototype remote control walk behind compactor was custom
designed and built for Ingersoll-Rand.

Transmitter Box Features

Joystick propulsion
Forward and reverse vibration control
Remote engine start and stop
Adjustable belt strap
Benefits of Remote Control
The remote control is radio transmitted. The compactor can be driven from 100 feet away with the remote feature.
The remote control is most beneficial when compacting in trench like areas where the ground is unstable. The operator can stand on safe, stable ground and still compact material.
By making the compactor remote controlled, the user experiences less fatigue caused by the vibrating motion when the machine is compacting.
When necessary, conversion between remote controlled and cable operated is quick and simple.
Paul Wever Construction Equipment is dedicated to product support for the construction equipment industry. We provide owners, operators, and dealers with solutions to their problems. If you have a need for troubleshooting information, engineering services, new product development, or current product support, please contact us.
IF YOU HAVE ANY QUESTIONS, PLEASE CONTACT PAUL IMM - SALES MANAGER.
Paul Wever Construction Equipment Co., Inc.
401 Martin Dr. -- P.O. Box 85
Goodfield, IL 61742
1-800-990-7923
Click on address for directions.
Send comments to: mpadilla@pwce.com

Copyright © 1998 Paul Wever Construction Equipment Co., Inc./Paul Wever. All rights reserved.
Last Revised: 11/13/98