P.W.C.E. NEWS BREAK
News Worthy of a Break from Your Daily Grind
Winter 2000
What was Your New Years Resolution?
If you are reading this, the world did not come to an end because of Y2K.
Improve Customer Satisfaction: That's our New Years resolution.Improving our reaction time to your needs is our main goal. Look at what we have already done to begin fulfilling our resolution:
Updated News Break: We expanded the News Break into a bigger, better format, and we are pleased to bring you this new and exiting version.
Expanded Facilities: We have been "under construction" to add a needed 5,000 square feet of space. The additional space will help us to design and manufacture more projects in a timely manner.
Expanded Product Line: We have added a new item to the Extendavator product line: the 3rd Stick. The 3rd Stick can add up to 35' of pivoting reach to your machine, and is special because it is designed to pivot at its connection to the dipper. The attachment has the capabilities of working between the machine's tracks at ground level. To see a photo, click here.
---
Industry Tidbits
Hello News Break Reader!
....We are pleased to send you this issue of News Break. In this issue, we are committed to bringing you information that will help make your job easier just as our customized products do.
....Once again the past year has proven to be successful for our company, and we would not have the prosperity and good fortune without the help and trust of our customers and suppliers. All of the staff would like to express our sicere appreciation to all of you. As we go forth into this new millennium, PWCE wishes you the best of luck in everything you do.

Best Wishes for the New Year,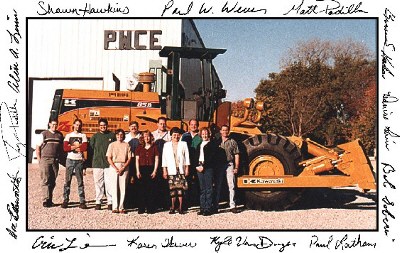 The Staff of PWCE
Industry News
Merger Completed
....Approximately seven months ago, New Holland N.V. and Case Corp. announced plans to merge into a $12 billion global equipment company.
....In November, the merger was completed and the new company, CNH, began trading on the New York Stock Exchange.
Silver Anniversary
....The Road Machinery Division of Ingersoll-Rand Company recently celebrated the 25th Anniversary of its Shippenburg, PA facility.
....Since operations were moved to Shippenburg in 1974, the Road Machinery Division has grown from basic assembly operation to a totally integrated manufacturing facility. The division produces asphalt and soil compactors, telescopic material handlers and straight-mast forklifts.
New Trademark
....Komatsu America International Company announced that effective Oct. 1, 1999, it will no longer use the Dresser trademark for its line of wheel loaders and crawler dozers. The new trademark will be Dressta.
....According to Komatsu America, the change will have no impact on the products currently manufactured under the Dresser trademark. Except for the Dressta trademark, all of the current product nomenclature will remain the same.
PWCE Featured Products
Extendable Paw
The Extendable Paw is a cost effective way to add extra reach and digging depth to your mini-excavator. Compare the cost difference between the Extendable Paw and buying a larger machine to get the extra reach.
Features of the Extendable Paw:

30% more reach
Replaceable wear plates
Fits several makes and models
Local parts availability

We build the Extendable Paw with the same high standards as our Extendavators.




For more information call 1-800-990-PWCE.

Bucket Suspension Control
A BSC system from PWCE can be installed on: Benefits of the BSC include:

Fore and aft pitching motion reduced
Shorter cycle times
Less operating cost due to less ground shock, structural fatigue, tire flex, and vibration
Loweer operating costs because of added vehicle control and operator comfort for higher production efficiency.


For more information about getting a BSC system installed on your machine, call Paul Imm at
1-800-990-PWCE.

CO-2040 Compactor
PWCE's super efficient asphalt/gravel compactor boasts many features along with its 16 wheel configuration and low center of gravity. Other benefits include:

Reduced on-site time
Reduced vehicle repair
Reduced maintenance downtime
Increased efficiency
Increased productivity


PWCE can custom build a compactor for you with job specific options, all you have to do is call.

High Rise Cab
PWCE's High Rise Cab can be installed on many styles and models of excavators. The benefits of the High Rise Cab includes:

Cab sits 4 to 8 feet above regular position for better visibility of work site.
Optional: Cab can tilt forward for easier transportation
Optional: Walk around stairway provides better access to cab and machine


For more information on customizing a High Rise Cab for your excavator, email Paul Imm at pimm@pwce.com
Objective: Finding a way to help construction companies work more efficiently is one of PWCE's main objectives. Our engineers worked to develop a product that would utilize an existing machines capabilities. The end result was a long-reach attachment called an Extendavator.
Product Line: PWCE Extendavators attach directly to your dipper without any structural changes. In typical applications, the Extendavator provides 40' to 100' of ground reach. Our Extendavator line boasts many features and advantages:
| | |
| --- | --- |
| * Customized to fit your machine | * Many lengths available (4' to 28') |
| * No additional counterweights needed | * Installed in less than two hours |
| * Requires no operator retraining | * Local parts availability |
Satisfaction: Unique personal service is a trademark of PWCE. Any contractor who has ever said, "I wish I had a Piece of equipment to ..." should be happy to know that innovative creative solutions and imaginative engineering expertise are just a phone call away. We have never had a request we couldn't address or answer, and we like to provide customers with the special kind of individual attention they deserve.
---
More TidBits
Machine Conversions
Do you own a worn out wheel loader?
Why not consider converting it into something else?
PWCE has helped out customers in this situation by converting wheel loaders into push dozers. Consider the benefits of machine conversion:
Conversion expenses less than new machine expenses

Added valute to an older machine

Reduced maintenance costs because of local parts availability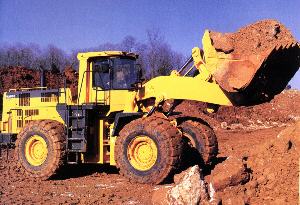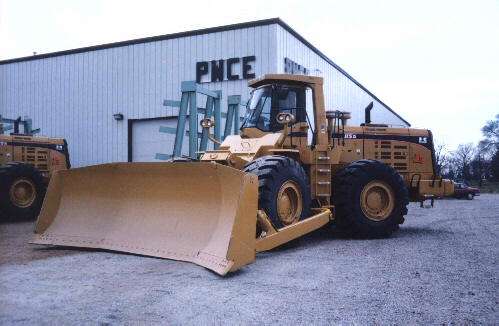 We can convert many different machines, all you have to do is call. For more information, contact us at 800-990-PWCE or email Paul Imm at pimm@pwce.com.
---
Dancing Diggers at Superbowl
....JCB was the official heavy equipment supplier to the Metro Atlanta Super Bowl XXXIV Host Committee. As part of its host sponsorship, JCB machines took part in displays, demonstrations, and completion of work at affiliate activities leading up to the big game.
....Some activities which features JCB's expertise are the Christmas in April Home Refurbishment Program, Habitat for Humanity's Local Super Bowl Build, and the Bash on the Beach. JCB also staged a performance by its unique Dancing Diggers.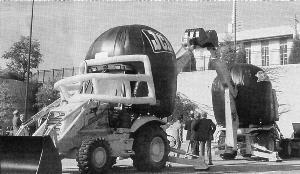 ---
Antique Cat Show
....Celebrating 75 years of Caterpillar machinery, the Antique Caterpillar Machinery Owners Club (ACMOC) will gather one of the largest collections of antique tractors and machinery manufactured by Caterpillar for a millennium event. From August 25-27, 2000, at Three Sisters Park in Chillicothe, IL, the Caterpillar machines are coming home to the Peoria, IL, area.
....ACMOC expects more than 200 machinery exhibits and will not only have them on display, but will present live demonstrations.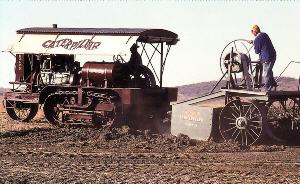 For more info on the event, call 1-800-747-0302, ext. 111.
---
National One-Call Number
....If you cross state or regional lines, you've probably experienced the hassle of tracking down the regional or state specific one-call numbers before digging. Now a toll-free phone call to 1-888-258-0808 will put you in touch with an operator who will give you the local one-call number.
....A "Call Before You Dig" decal can be obtained through equipment dealers or manufacturers.
---
Mini Excavator Removes Smut
....With the help of PWCE, a magnesium production company has moved its employees to a safer working environment.
....Previously, employees used 12 foot shovels to remove "smut" from the bottom of the cells where the magnesium is produced. Our engineers developed a smut retrieval system for the plant using a Bobcat mini-excavator with a special long stick attachment. The machine boasts these features:
Stainless steel bucket, pins, and stick
Weep holes in bucket to allow magnesium liquid to flow out
Special thermal linkage to keep hydraulic cylinder seals from melting
Bucket designed to fit and move around inside of the cell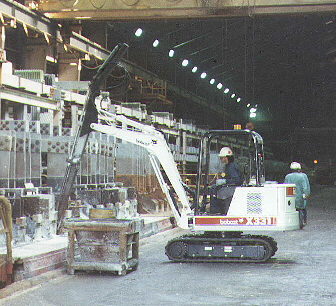 ---
Web Sites
Here are a few web sites that we recomment to find the latest news about the industry:
Kawasaki's site contains information and specs on their wheel loaders, a dealer locator, and a used equipment locator.
PWCE's site has information on customized products, services, parts, and a photo gallery.
Equipment News-Record's (ENR) site includes headline news, project bids, and links to other costruction sites.
---
Calendar of Events
February 20-24, 2000
World of Concrete 2000, the construction industry's largest annual international show on commercial construction, will take place at the Orange County Convention Center, Orlando, FL. For additional information, call 1-800-837-0870, ext. 2653.
June 1-3, 2000
Equipment Demonstration Exposition, a trade show where customers can see and operate construction equipment, will take place at the Kentucky Exposition Center, Louisville, KY. For more information, call 1-888-771-DEMO.

FOR A FREE SUBSCRIPTION TO THE PWCE QUARTERLY NEWSLETTER, PLEASE GIVE YOUR NAME, ADDRESS, COMPANY, AND PHONE NUMBER TO SHAWN HAWKINS - EDITOR.
Send comments to: Name or e-mail ID

Copyright © 2000 Paul Wever Construction Equipment Co., Inc./Paul Wever. All rights reserved.
Last Revised: 02/01/00