P.W.C.E. NEWS BREAK
News Worthy of a Break from Your Daily Grind
Spring 2001

P.W.C.E. M318 SCALER
Features:

Infrared & Ultra Sonic Warning Systems
Cab raises up to 6 feet
Positionable 45 degree cab tilt
Cab forward design for visibility
Added roof guard
Bullet proof glass
Special lighting package


.....The P.W.C.E. M318 Scaler was specifically designed to work in underground mines for Martin Marietta. After the face wall is blown off a mine the Scaler goes in and makes the room safe for workers to haul out the product. The P.W.C.E. M318 Scaler was specifically designed to cleam the room from one spot without moving.
.....The P.W.C.E. M318 Scaler is equipped with a P.W.C.E. Extendable Dipper and a specially designed hammer fixture for roof hammering. All of the boom and cab hydraulics are load and shock protected with a P.W.C.E. specially designed system.
.....Paul Wever Construction Equipment is dedicated to product support for the specialized industry. If you have a need for engineering services or new product development contact Paul Imm, 309-965-2005.
---
P.W.C.E.'s EXTENDABLE PAW

Features:

Up to 30% more reach to your machine
Has replaceable wear plates
Installs easily
Fits Mini- and full-size excavators
Guaranteed


Boyle Excavating of Arrowsmith, IL using an ES5500 Extendable Paw
.....Boyle Excavating was preparing a site for the expansion of a local union hall, where clearing trees in the minimal space was a concern. Boyle decided to try the PWCE Extendable Paw in this task. According to Jarrod Boyle, "It was great for quick and easy tree removal and it was great to not have to move the whole tractor every time I wanted to pick up more dirt."
.....Jarrod Boyle was impressed with the PWCE Extendable Paw and would highly recommend it. "I think that it would be a great asset for anyone in dirt moving and demolition."
---
Web Sites Worth Checking Out:
Up-to-date news and links on the industry.
Sell and trade equipment or locate a dealer.
Used test equipment and semi-conductor production and Equipment Dealer Directory.
---
Calendar Events
May 5 - 9

Construction Financial Management Association 2001 Annual Conference and Exhibition, The Wyndham Palace Resort and Spa, Orlando, Florida, Contact: William Schwab, (609) 452-8000: www.cfma.org
June 18 - 21

A/E/C Systems 2001, McCormick Place, Lakeside Center, Chicago. Contact: A/E/C Systems, (800) 451-1196; fax (610) 458-1553; www.aecsystems.com
August 20 - 22

National Construction and Maintenance Expo 2001, Las Vegas Convention Center, Las Vegas. Contact: Michael Hopperton, (702) 893-9090
---
DEERETRAX
John Deere's Trax Equipment Tracking System provides the ability to track the location of each piece of equipment in a contractor's fleet, the number of hours logged as well as maintenance needs. For more information contact a John Deere Dealer or call 800-503-3373.

Oc107 Bucket Position Monitor
Dig to exact grade without having to stop for checking depth. The instrument works from a laser or from benchmarks, all within the comfort of the operators cab. For more information call 800-344-4788, or visit www.ocalainstruments.com.

Rayco Mini Crawler
New from Rayco is the C85D Mini-Crawler. This compact dozer is designed to work in areas not accessible to ordinary machines. The Mini-Crawler only weighs 7,850 pounds but has a powerful 83-horsepower diesel engine. The dozer features a six-way blade, joystick controls and cab forward design. For more info contact Rayco at 800-392-2686 or visit www.raycomfg.com.
---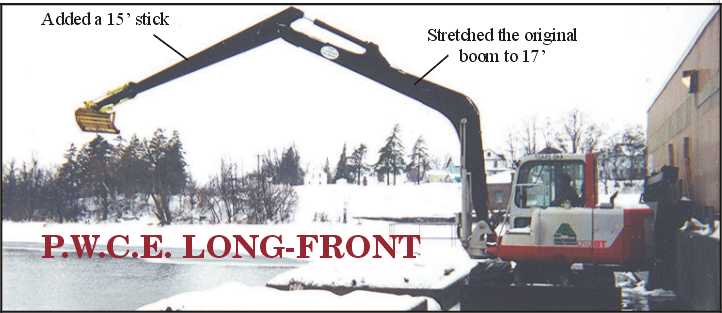 .....In working with Algonquin Power Systems, Anderson Equipment needed to come up with a new machine to replace a device that was used to clean grates on a dam. Using a Takeuchi TB070 that Anderson Equipment had in their rental fleet, PWCE specifically designed the Long Front attachment to meet their needs.

.....In addition to cutting labor costs, it also "improved productivity a whole lot," according to Alex Shue of Anderson Equipment. Alex Shue enthusiastically noted, "They (Paul Wever and Paul Imm) drove over 16 hours to meet with me personally. You don't see service like that anymore."
---
PWCE Ride Controls
Roading a Loader over rough terrain will cause a fore and aft pitching motion to the vehicle. This is common to all loaders. The pitching motion is reduced when a Bucket Suspension Control is installed. The control provides the lift side lines of the boom cylinders with an accumulator on and off control. This control, when its engaged, allows the hydraulic fluid to press against the accumulator. The boom cylinders now become shock absorbers helping to cushion the up and down motion of the bucket. This stabilizes the entire vehicle.
*Ride Controls also available for wheel loaders and skid steer loaders.

Register to Recieve Newsletter
Send comments to: mpadilla@pwce.com

Copyright © 2000 Paul Wever Construction Equipment Co., Inc./Paul Wever. All rights reserved.
Last Revised: 5/12/01